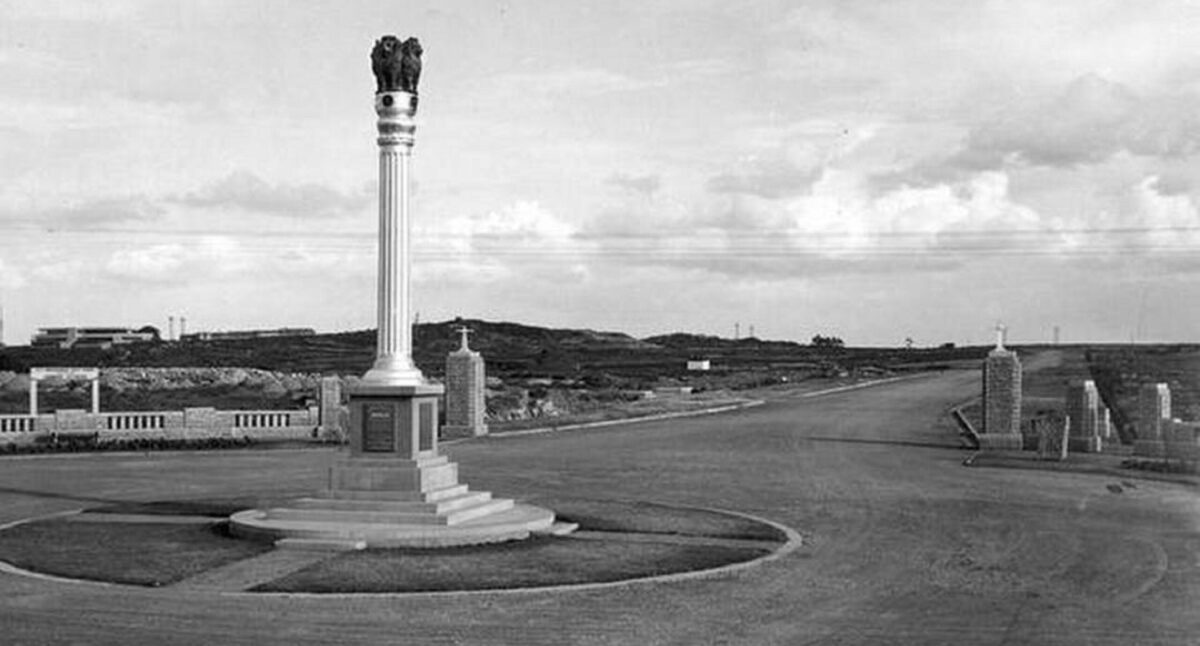 Happy 75th Birthday, Jayanagar!
The transformation of the locality since August 20, 1948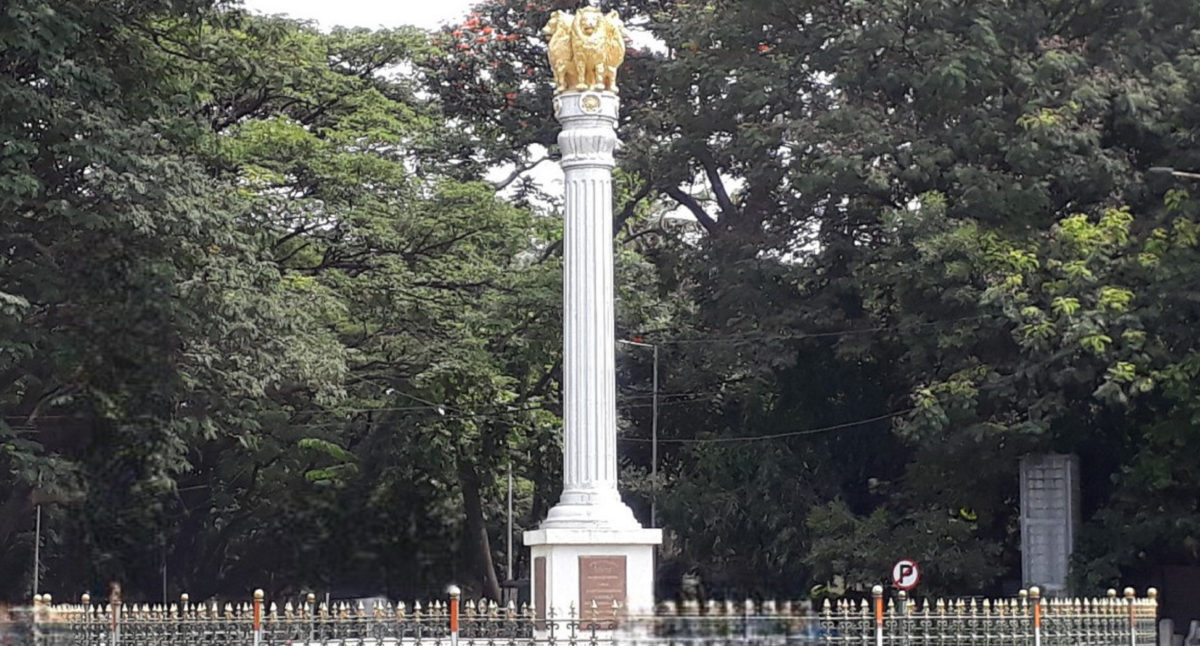 Happy 75th Birthday, Jayanagar!
The transformation of the locality since August 20, 1948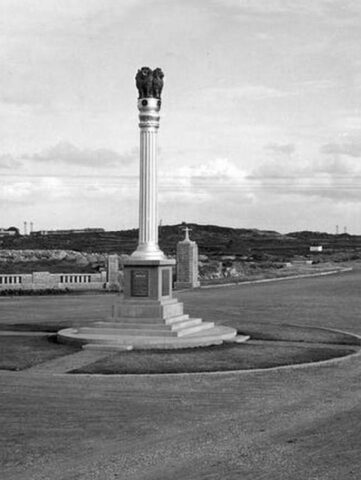 Happy 75th Birthday, Jayanagar!
The transformation of the locality since August 20, 1948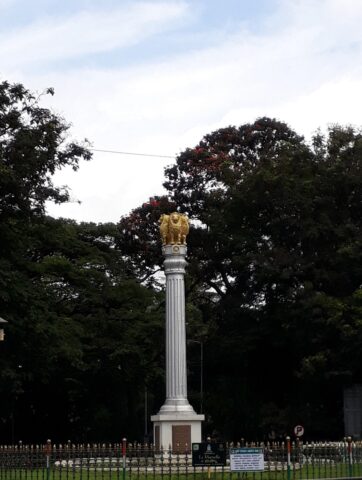 Happy 75th Birthday, Jayanagar!
The transformation of the locality since August 20, 1948

Arvind Krishnaswamy
One year after independence, Jayanagar was born on August 20, 1948. The ceremony for the new extension was presided by C Rajagopalachari, who had stepped into the role of India's first Governor-General exactly two months earlier on June 20th. Originally called as Kankanpalya extension, it was renamed after Jayachamarajendra Wodeyar.
Why did the city need a new extension? Over fifty years had lapsed since the construction of Malleswaram and Basavanagudi. This resulted in acute housing shortage and the City Improvement Trust Board (CITB) decided to extend the southern boundary of the city by acquiring 1600 acres of land from villages such as Siddapura, Byrasandra, Marenahalli, Thayappanahalli and Yediyur.1 PS Ranganathachar, an architect who lived in Shanthinagar built the Ashoka Pillar for the inauguration and R Madhavan, B.E., an Engineer Officer of CITB at Malleswaram was in charge of the design of the extension (Madhavan Park is named after him). 
Original CITB invitation booklet for the inauguration ceremony of Jayanagar. Courtesy: Shyamal
Use the arrows to flip through the pages
The extension was planned to have 6000 sites at an estimated cost of ₹1.25 crores. The size of an average site in Jayanagar was 0.219 acres. At the time of launch, it was intended to use only 50% of the land for sites and rest for civic amenities. For the formation, dry agricultural land was acquired at ₹2000 per acre and cultivable land was acquired at ₹4000 per acre. In 1950, the land value was between ₹3 and ₹6 per square yard in 1st to 3rd blocks and ₹7.50 per square yard in 4th block. Corner sites were sold between ₹15 to ₹25 per square yard.2 A 40×60 square feet site (266 square yards) was available between ₹800 to ₹2000 at those rates. There was hardly any demand at the time, except for agricultural use. 
Jayanagar had a topological advantage as the land selected for it was on an average 50 to 100 feet higher compared to its immediate surroundings. Intentional or otherwise, as with many of the upscale areas in the city, the higher elevation helped in drainage, wind flow and other natural benefits.
A large area of land was left as a civic park near Ashoka Pillar which marked the start of Jayanagar. However, officials converted these into large bungalow sites and allotted them to top officials, even though adjoining Siddapura was considered as a slum.3 In the early 1950s, the Mysore Government reserved 200 sites in Jayanagar for a Refugee Housing Scheme to assist people displaced by the partition. Government of India also contributed ₹4.8 lakhs for this purpose but in the end only 53 such houses were constructed and rest put on hold. However, progress was slow in some parts of the new extension and work to provide water connection and other basic amenities was still going on as late as 1954. 
In 1956, there were just four bus routes connecting Jayanagar to City Market, Railway Station, Russell Market and Gopalapura (near Magadi Road where Minerva Mills stood). By 1963, there were about ten bus routes going as far as Malleswaram and Yeshwantpur. This expansion of public transport was boosted with the opening of a bus depot at Jayanagar 4th T Block in 1966.
The newly developed blocks had a grid of well designed main roads and cross streets except where old villages intersected with their narrow streets and huts. By the 1960s, more homes were built in the first four blocks and rest were still sparsely populated. In 1961, when the first and second blocks were transferred to the Corporation,  the Jayanagar 8th Block residents association demanded that CITB should do the same in their case as well to ensure better administration and facilities. It is hard to believe, but even as late as 1967, even flats built in Jayanagar as part of slum clearance lay empty as there were no takers! 4
For about two decades, extensions like Jayanagar were perceived to be unconnected and undesirable places to build homes. Noted writer RK Narayan once remarked that with these separate and isolated extensions the city had become like Los Angeles (where one had to go long distances from one place to another).
People who lived in Jayanagar were still dependent on neighbouring areas like Basavanagudi for entertainment, shopping and education. In 1965, National College opened their Jayanagar branch, even though it was considered to be second choice to the main college in Basavanagudi. Local entertainment got a boost with the extension's first movie theatre "Nanda" which opened around 1969. The City Central Library opened its Jayanagar Branch near South End circle in 1968. There was even a touch of industry when MM Industrial Estate – one of the few privately run industrial parks in the country at the time – was opened around 1970 in the Yediyur area.
In 1970, Jayanagar was still affordable as a 40 feet by 50 feet site could be purchased for just ₹4,900 and a 2000 square feet home could be built for less than one lakh rupees.5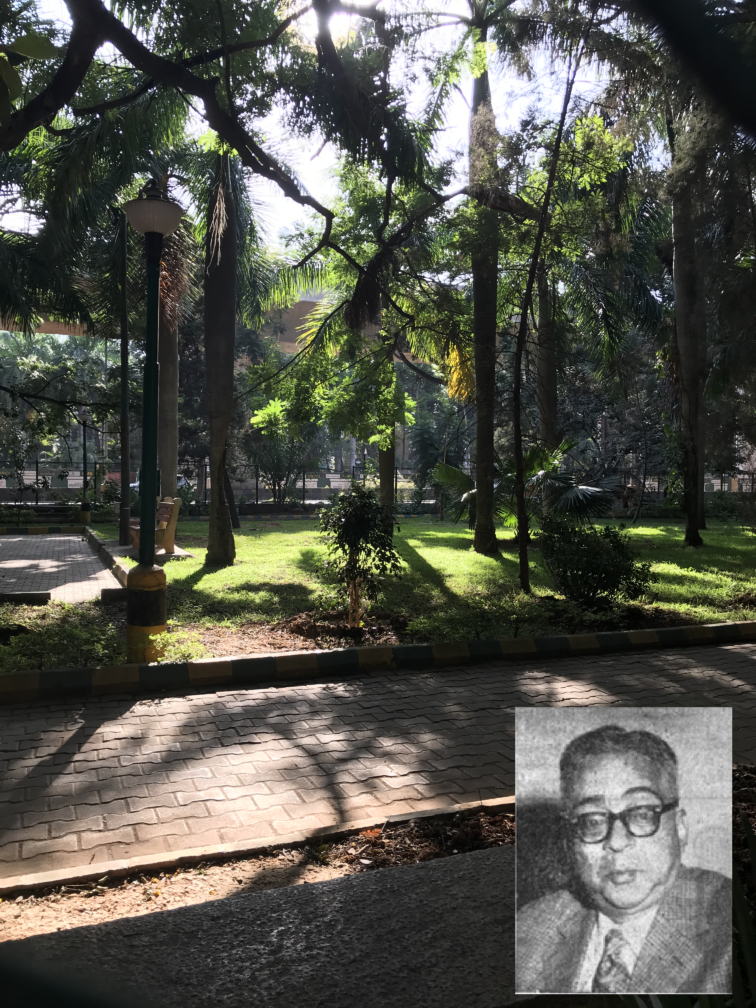 By design, Jayanagar was planned with lots of space reserved for gardens and parks. The road leading from South End Road (or Yediyur Terminus as it was known then) was developed into a tree-lined boulevard with park on both sides by N Lakshman Rau, an IAS administrator who headed the Corporation. According to The Labors of a Park: 8 Propositions about Green Infrastructure in Bangalore by Annapurna Garimella, the land where the park was created was originally a pasture for grazing animals.
Over the past 50 years, the park has undergone a lot of transformation from being just an open lung space to a planned, restricted and fenced park. Of course, no open space in a growing city like Bengaluru was safe from 'development'. Huge water pipes bringing Cauvery water to the city were laid under the park in 1973. Walking tracks, play equipment, bandstands, vegetable and milk outlets took up more space, not to forget the overnight udbhava (manifestation) of temples. Finally, the metro train system annexed large areas of the park for stations, concrete pillars and the viaduct. The only solace is that both in 2009 (Phase 1 of Metro) and 2016 (Phase 2 of Metro), local residents and conservationists who were vocal about destruction of greenery minimised the loss to some extent.
For many years until the 1980s, Jayanagar had one of the lowest population densities at 22 persons per acre compared to more than 300 for the congested city areas. Among 36 localities that form core Bengaluru, all three wards that make up Jayanagar (Jayanagar, Shakambarinagar, Pattabhiramanagar) are in top 10 for vegetation area, vegetation density and number of trees per person. Of these, Jayanagar ward was in third place only behind Vasanth Nagar and Koramangala.6
Street views of Jayanagar in 1970s (click on thumbnails for larger image). Courtesy: KR Gururaja Rao
In what was perhaps both a boon and a bane for the sleepy extension, the Jayanagar Shopping Complex was built in 1974. Jayanagar became a happening place. It was seen as an alternative shopping destination to Majestic, MG Road and Brigade Road.
Writing in The Emerald Route, a travelogue written for the Government of Karnataka in 1977, R K Narayan admired the city and the new shopping complex as follows –
I was overwhelmed with its extent again during a drive through the city with the Corporation Administrator, Mr. Laxman Rao (who leaves home at the dawn of each day to inspect this vast city methodically inch by inch and pass orders on the spot to the staff accompanying him, dedicated as he is to task of maintaining Bangalore as a city of beauty and comfort—'It is like house-keeping, you have to be at it continuously,' he remarked), from Jayanagar shopping complex (the biggest in Asia, with its 225 shops, super bazaars, fruit and vegetable market, offices and a cinema theatre) at one end, to Ulsoor Tank, at the other. Parks and mini forests that are being created and cherished all along the way seemed countless.
By the 1990s, shops sprouted all over the extension. Over years, large properties were sold because proceeds were shared by multiple inheritors. Avarice led to residential properties being converted everywhere. The larger main roads were the first to be transformed starting at Jayanagar 4th Block.
Incessant and rampant commercialisation has changed the entire landscape leaving very few pockets untouched. Apart from shops, street vendors have overrun every street. You would be lucky to even get near Jayanagar Shopping Complex as there are layers of vendors around and inside it. The price of the few residential properties that remain have skyrocketed to dizzy heights. Increase in FSI (Floor Space Index) has led to apartments jostling neck to neck on narrow cross roads. Today, one cannot buy a single site of any dimension for the entire amount spent to establish the locality.
Despite all the changes, if Jayanagar still remains attractive today, the credit goes to the way it was designed and built. When many areas of the city are inundated during rains, it is one of the least affected areas. Thanks to the grid street plan, traffic woes are tolerable. It still looks organised amidst chaos. But, the million rupee question is how long will it last.
In 1948 when Rajagopalachari inaugurated Jayanagar, he spoke these words7 –
"It is also a great honour to me to inaugurate the new extension in this City named after His Highness the present Ruler. May his name be an inspiration for us to triumph over problems of poverty. We must fight poverty. We must give poor people homes to live in. May Jayanagar not only be a memorial to His Highness in his name, but also an indication of the success we hope for. It is Victory Nagar and not merely a memorial for an extension. May those who live in this new city be good men and good women".
What would he think of Jayanagar if he were to see it today?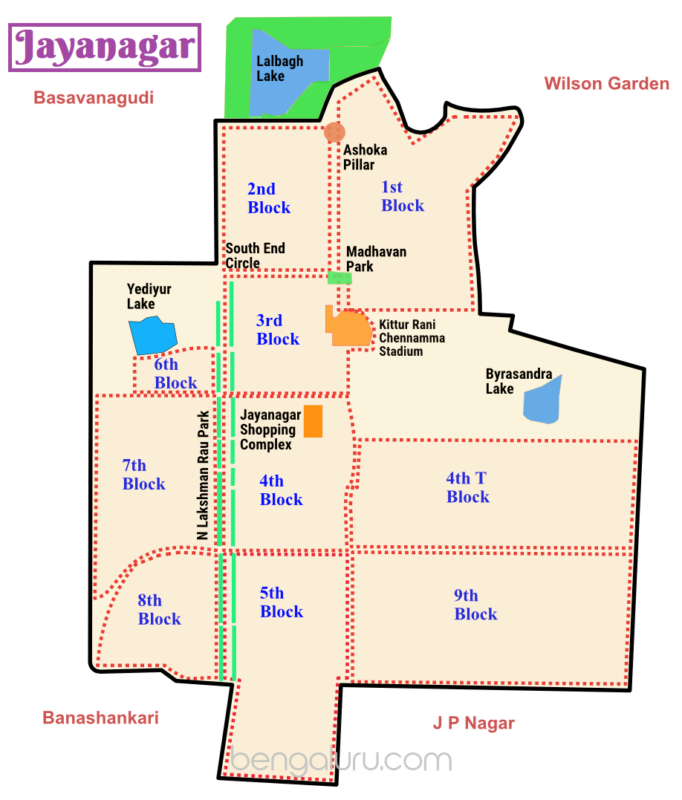 Map of Jayanagar
Sources:
Report on the Administration of Mysore, 1949
Sociological Bulletin – Volumes 9-10
Civic Affairs, Volume 24
Civic Affairs, Volume 15
My Memoirs: Faith, Fame, Dreams & Destiny! By K. Rahman Khan
Trees of Bengaluru, KSPCB, ENVIS Technical Report, 2014
Speeches of C Rajagopalachari, Governor-General of India, June 1948 — January 1950
Featured Posts