The Green Heart of Bengaluru
Roopa Pai's new book on Cubbon Park
Text and Interview by Arvind Krishnaswamy
Less than 1 minute
Reading Time
min
The birth of Cubbon Park was a fortuitous outcome of the undulating terrain and geographical imperfections around the newly constructed Attara Kacheri. The Attara Kacheri site was a narrow strip of land that rapidly sloped and had rocks and gravel pits. Trees were planted to cover these blemishes.1 Over the years, this open landscape was slowly transformed into the park as we see it today. Cubbon Park never had a defined boundary and grew and shrunk in area over time. In many ways, it was the 'neglected child' compared to the 'pampered' Lalbagh that was the creation of a sultan. Even the Mysore Government ranked it lower in status, calling it as "next in importance to Lalbagh".2 Perhaps, the only occasion when Cubbon Park gave something to Lalbagh was in 1935, when the two stone lions from the Band Stand were moved to the front of the Glass House.3
The proximity of Cubbon Park to the corridors of power and justice has been a mixed blessing. The absence of walls made it more accessible as a people's park but it also left it vulnerable to encroachment. 
To experience the difference it makes when you feel choked by air pollution, just come from any part of the city into the park. Nature instantly turns on air conditioning and the temperature drops by a few degrees. Every breath of air feels much cleaner, healthier and you are in a completely different world.
Bengaluru is fortunate to have this urban oasis of 197 acres similar to Central Park in New York (840 acres) and Hyde Park in London (350 acres). Apart from obvious benefits such as reducing air pollution, lowering temperatures and offering an escape from city life, the park can play an important role in educating people about ecology and to move towards a more sustainable society.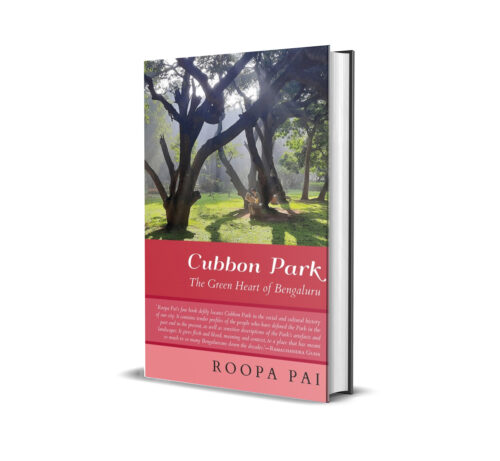 Many generations have traversed through Cubbon Park, which has stood the test of time despite ups and downs. Whether one is a historian or not, Roopa Pai's new book on Cubbon Park is a welcome addition to the growing library of books on Bengaluru.
The book is not just about the park but also of the people behind its birth, growth and survival.  The first thing a reader will notice is the intriguing section names which are grouped first chronologically and then by various roles of people. In fact, the book can be easily converted into a play script where the park forms the changing backdrop and the key people associated with it would take us through its evolution over time.
As with many other books on Bengaluru, the first section starts with the birth of the city during the time of Kempegowda. The reader is taken through the rule of Hyder Ali, Tipu Sultan and the Wodeyars leading finally to the British era. Even though it is peppered with a lot of historical facts, profiles and  incidents it is easy to read and does not overwhelm the reader. It is light on botanical features of Cubbon Park, but that could be the subject of an entire book by itself. What is also commendable is that the book also brings to light efforts of lesser known people such as Mahantesh Murgod in recent years. 
The last part of the book focuses on the activists, the court battles to protect the park and the mixed outcomes of these efforts. Over the years, many groups have tried to assert their power over developments in the park and even poor dogs have been dragged into the imbroglio.
Roopa adds a personal touch writing about her own association with the park and why she chose to write the book. With elements of history, travel, horticulture, autobiography, environment and social issues it is difficult to classify it under any single book genre. However, that should also make it more appealing to a wider audience. 
If you believe you have lost touch with the ever-changing Bengaluru over the years or you simply want to know more about our green heritage, this is a must read.
Cubbon Park – The Green Heart of Bengaluru
Author: Roopa Pai
Publisher: Speaking Tiger Books
Pages: 184
Published: October 2, 2022


Why did you choose to write a book on Cubbon Park and how long did it take you?

What were some of the challenges in writing this book?

How did you decide on the format and structure of the book?

Cubbon Park is a visual delight. Why not a large format book with more photos?

How did you become a full-time writer after an engineering degree?

How did you develop an interest in history and heritage?

What do you want the reader to take away from the book?
Roopa Pai is a third-generation Bengalurean who has carried on a love affair with her city for as long as she can remember. She always wanted to be a writer and has over 20 books to her credit, a majority of them for children. Roopa is the co-founder of Bangalore Walks, which has taken thousands of people on walking tours since its inception in 2005. 
Roopa lives in Bengaluru with her family, and – horror of horrors – drinks chai instead of coffee, the staple beverage of the city!
Credits
Main Image: Seshadri Iyer Memorial Hall from above © Amith Nag
A view of Cubbon Park from Attara Kacheri © Ajay Bhaskar
Cubbon Park with Vidhana Soudha in background © Trinijacobs
Road inside Cubbon Park © Trinijacobs
A place to enjoy nature © Mohak Gosavi
The Band Stand with Attara Kacheri in background © Trinijacobs
Trees and sunlight © Manikandan G
Seshadri Iyer Memorial Hall © Lazar Adrian Catalin
Statue of Maharajah Chamrajendra Wodeyar © Trinijacobs
Statue of Sir Mark Cubbon © Roopa Pai
Statue of Queen Victoria © Maneesh Upadhyay
Statue of King Edward VII  © PL Tandon
Statue of Dewan Seshari Iyer  © Augustus Binu/ www.dreamsparrow.net
The images may not be copied or used without the prior written permission of the copyright holders.
References
1 Indian Engineering ed. Major A M Lang, Feb 1873 Page 1
2 Report on the Administration of Mysore, Page 65
3 Annual Report of the Government Gardens Department 1935-36, Page 23