Cop Shiva
LIFE THROUGH THE LENS
The inspiring and fascinating story of a young man who discovered the artist in himself and proved that your future is in your hands.

Arvind Krishnaswamy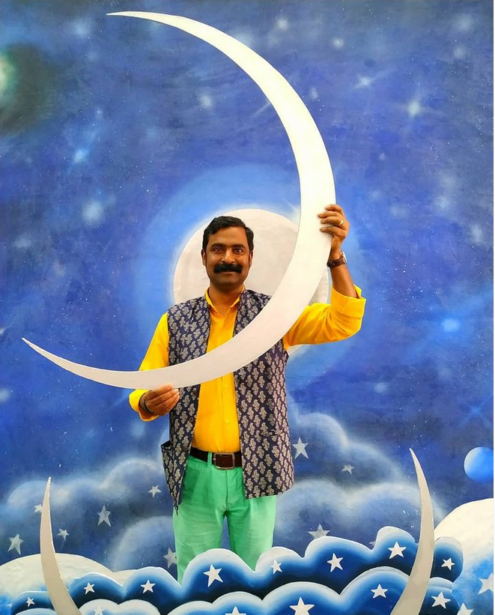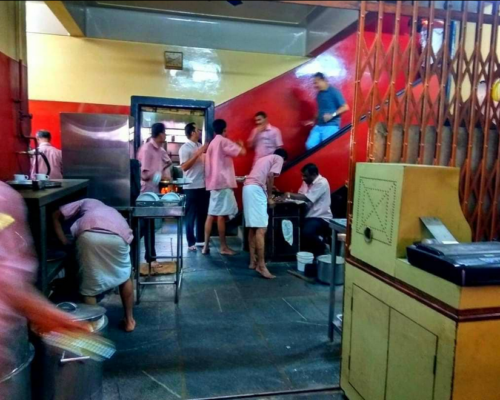 Mavalli Tiffin Rooms (MTR)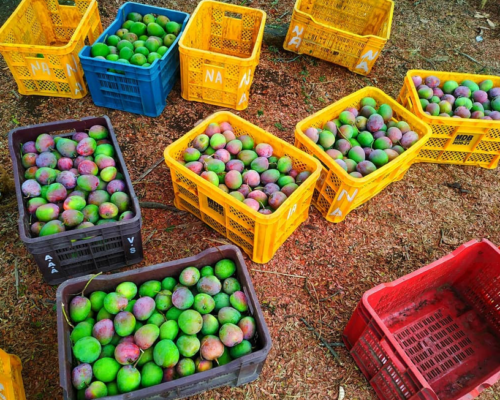 First Harvest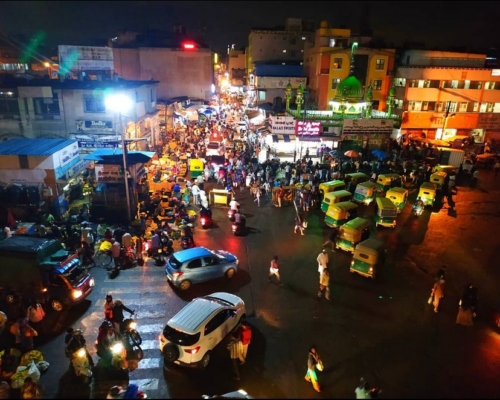 Namma Bengaluru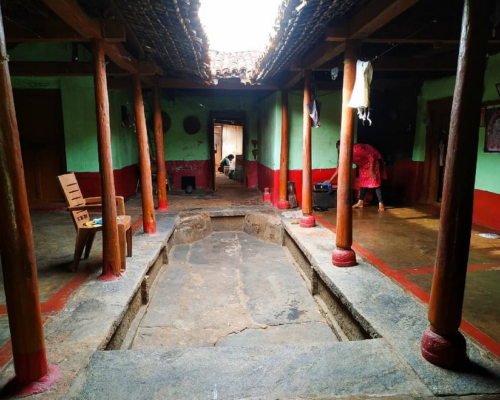 Courtyard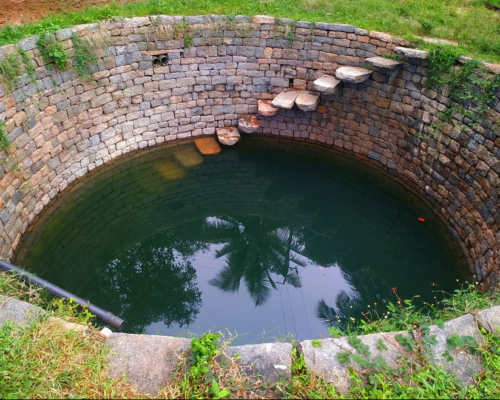 Village Well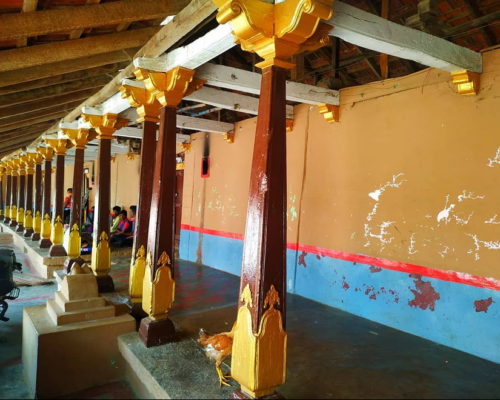 Pillars of history and culture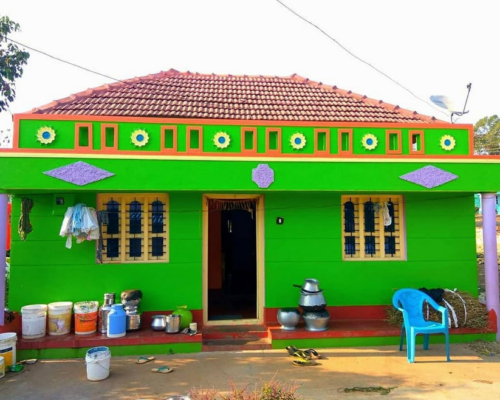 Bannikuppe home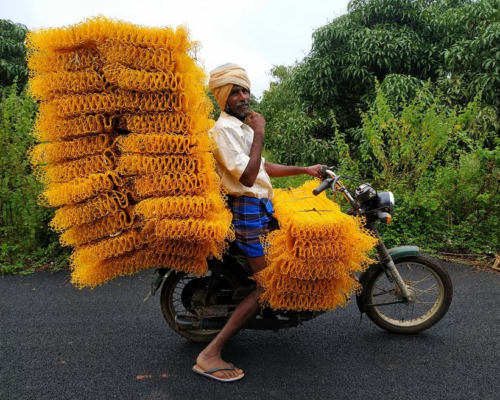 Balancing Act
Life is a journey and everyone has a different experience, but not many have as many twists and turns as what you are about to read. After all, how many people are born in a village farming family, drop out of school to become a salesman at 15, a cop at 21, finally choose an artistic career and be named one of top 10 photographers in the country? This is no fantasy but the true life story of B S Shivaraju alias Cop Shiva.
The story started in Bannikuppe, an ubiquitous place name in the state of Karnataka (Banni denotes flora and kuppe literally means a heap or a hill). The village of this name in Ramanagara district is located about 50 km from Bengaluru and its estimated population in 2020 was just 1,675. Even today, the village largely remains the same but ads for residential sites and holiday homes have started popping up online – the first touches of urban way of living and latest travel trends.  
B S Shivaraju was born in Bannikuppe and his childhood days were spent surrounded by temples, hills and farms. His biggest influence was his grandfather who was very passionate about theatre.  Back in the 70s and 80s, theatre was an integral part of life, especially in small villages and towns. Staging or watching a play was a big social event that brought together the whole community and it was really one big celebration. In many homes people proudly displayed photographs of themselves in their theatre costumes. Habib Tanvir, arguably India's most popular theatre personality, wrote in 1974,  "It is in its villages that the dramatic tradition of India in all its pristine glory and vitality remains preserved even to this day."1
Shivaraju said, " I still remember going with him to see the plays that went on for most of the night. My grandfather constantly encouraged me to be a part of it when I grew up."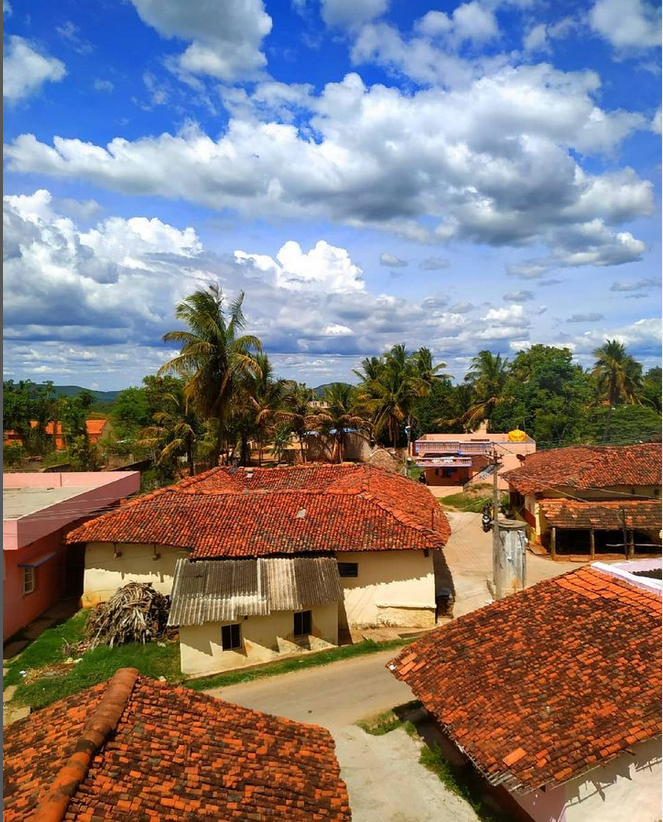 Dancing Clouds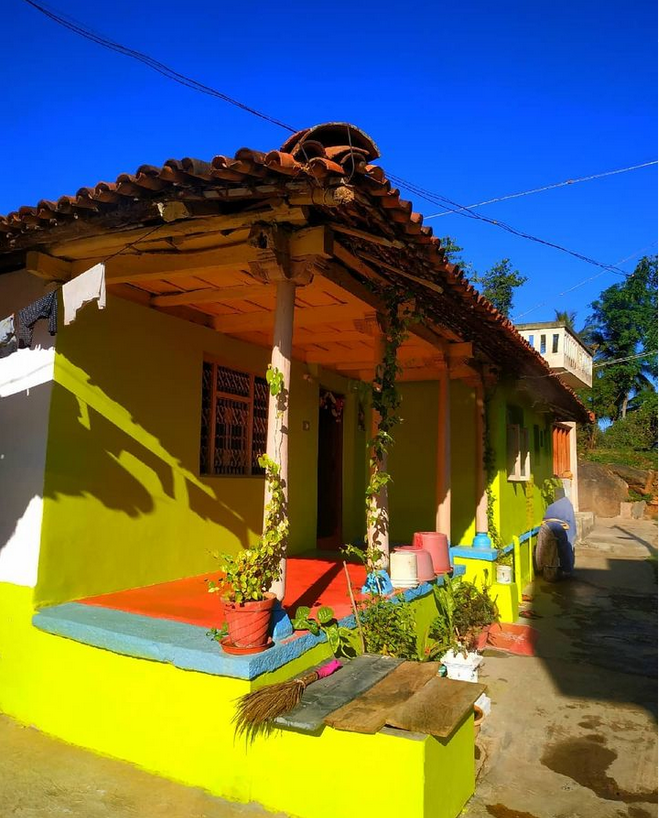 The Shining Sun
Shivaraju studied until tenth standard but quit school after that. Farming always had its share of risks and uncertainties. A secure job with a steady income was a top priority to make a living. When he was about 15 years old, he first came to Bengaluru and worked as a salesman. Then, he got a job in the police department at the age of 21. Most people would have been content to stay there until retirement. After all, this was a much coveted government job. But life had other plans for Shivaraju and he was destined for a career in arts.  His foray into the world of art was purely an accident and happened quite late when he was about 30 years old. 
He said, "I was working as a co-ordinator at 1 Shanthi Road and got the opportunity to see artists at work. I started documenting shows and events with a small camera and slowly realised that I enjoyed it."
He chose photography as he did not have any formal training in other forms of art. Then one day it occurred to Shivaraju that if he can capture famous and well-known artists, he could also do this with ordinary people and give a voice to the many unsung heroes around us
He had a full time job in the police department but started devoting all his free time to photography. Within two years of being an amateur photographer, he got a break with his first show in 2012 at Gallery Sumukha, followed by a show at Art Heritage in Delhi in 2013. Eventually, Shivaraju quit his job as a policeman and became 'Cop Shiva', a full time artist.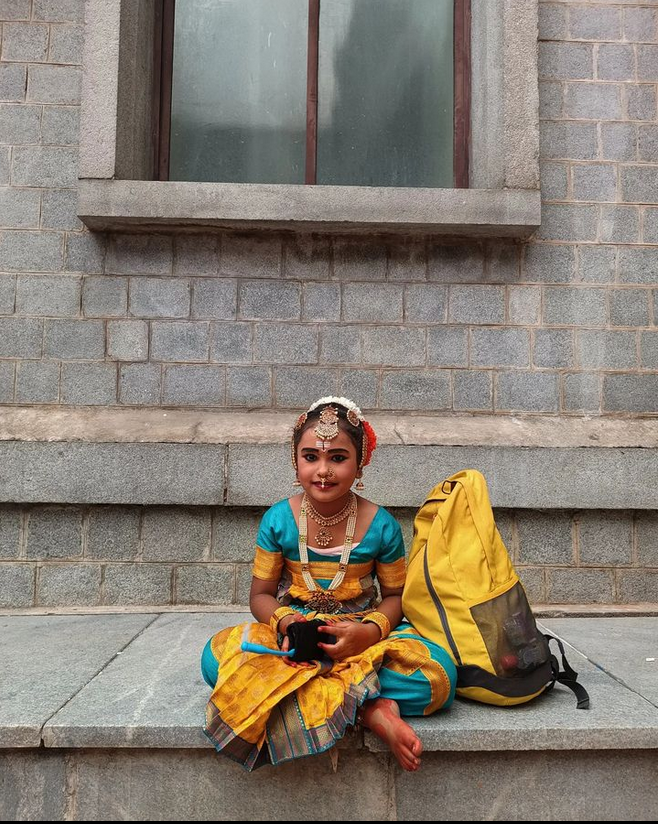 Performance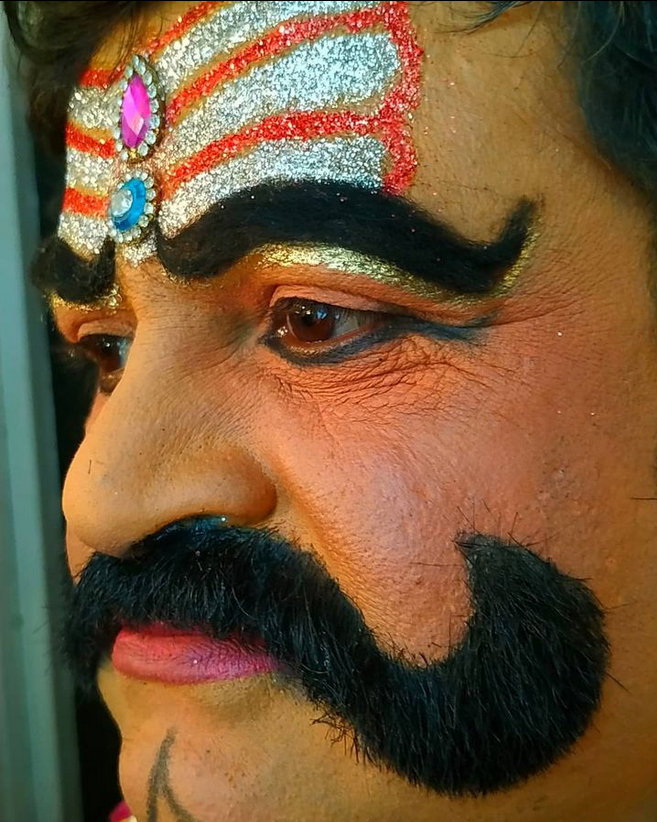 Transformation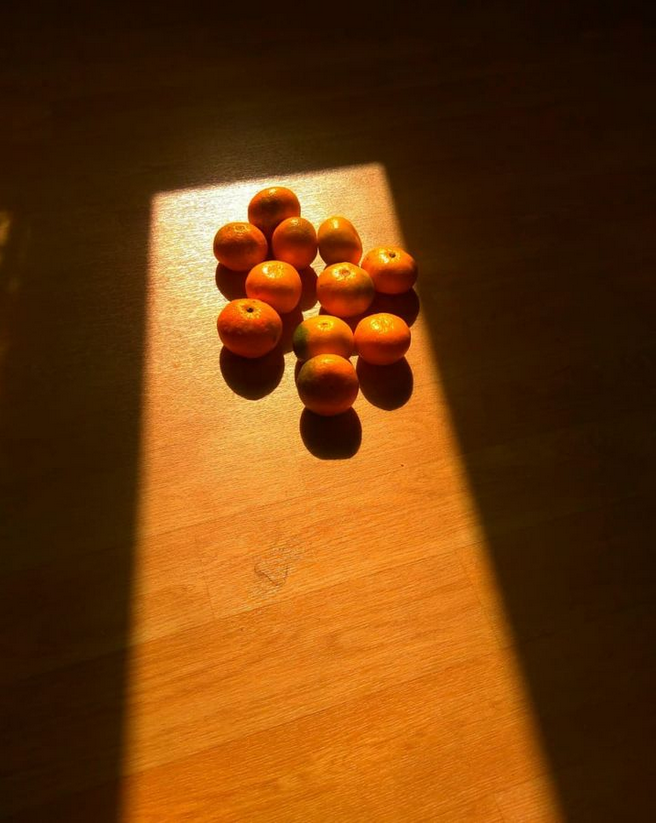 Right place, right time
Working as a policeman had a big influence on his career as a photographer. It helped him observe people from up close as he was one of them on the street. He listened to what they had to say. 
"I came across people from all stratas of society and every class. I also learnt to accept them as they were without judging them", Cop Shiva said,  "Everyone has a story and that is what I want to share through my photographs." 
Naturally, common people became the focus of his photographs and to quote Cop Shiva his objective was to "document the complexity of rural and urban India, focusing on people and portraiture as a genre."2
Looking back at his journey from a village farming family, Cop Shiva said, "It has been about 25 years since I first came to Bengaluru and I have seen it change and grow. I am a migrant like the thousands of others who come to the city in search of a job, hoping for happiness. It is not an easy decision to leave a small village and come to a huge city for a new life. Once you come, you get caught in the urban vortex and cannot go back."
This led to his project "Street as a Studio" in which he featured migrants against the backdrop of murals. He said, "I not only pay a tribute to the migrants who come to make a life but also capture a visual of the city at that moment in time."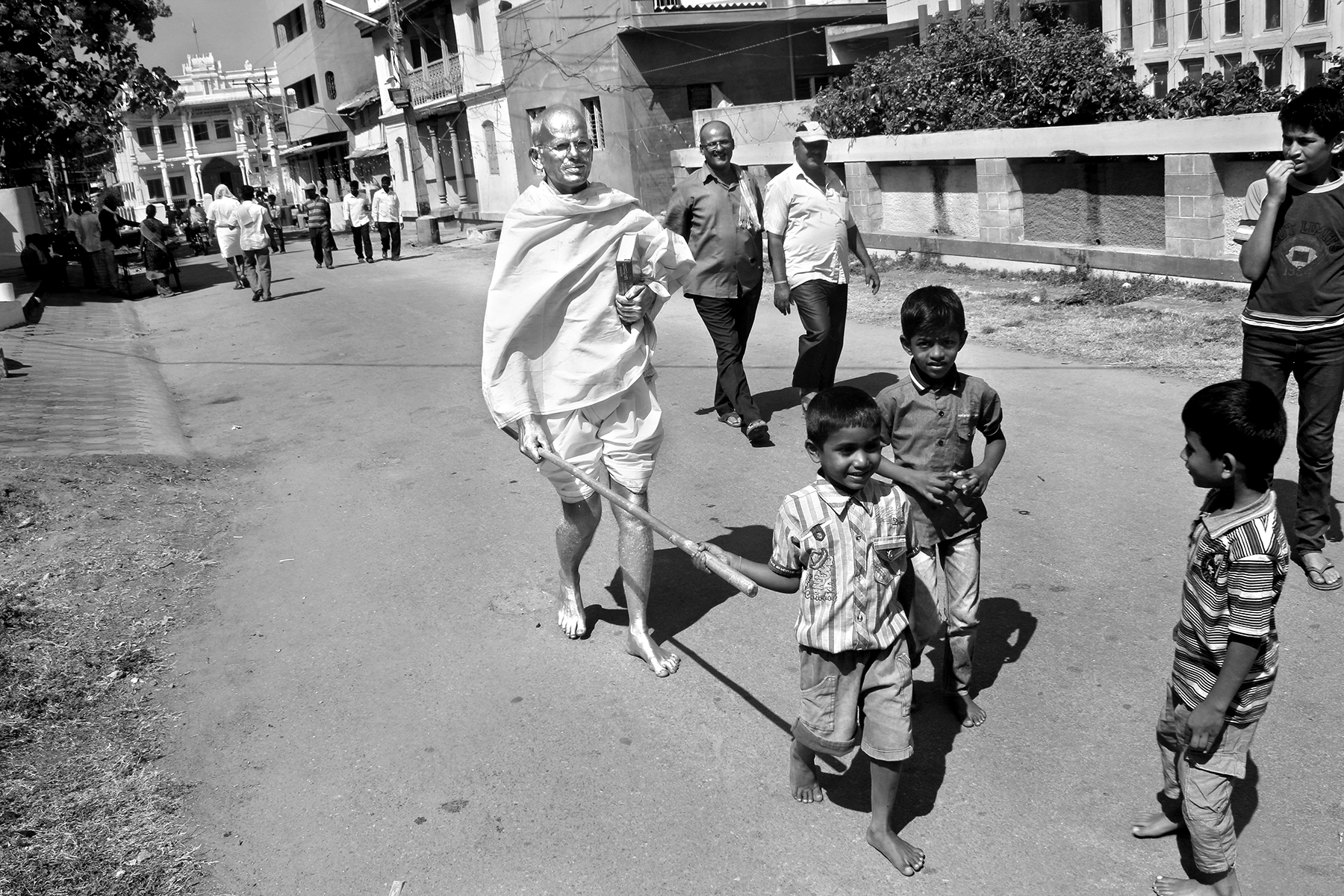 Being Gandhi
Byagadehalli Basavaraj features in Being Gandhi, one of Cop Shiva's most popular series. Basavaraj lives and works in Kadur, a town in Chikkamagaluru district of Karnataka as a teacher at a private school and also as an agent of Life Insurance Corporation of India. He has also acted in the Kannada movie "Act 1978". 3 What makes him unique is that he has been masquerading as Gandhi in real life for about 20 years. He has been going to festivals, cultural events using his own money as he wants the younger generation to know the value of Gandhi. Cop Shiva has literally become a part of Basavaraj's family and their relationship goes beyond photographs. 
Cop Shiva said, "Being Gandhi is an ongoing process rather than a project with an end."
Cop Shiva's other project is closer to home and his heart. It features his mother and her technicolour sarees.
"Ever since I was a child, my mother loved colourful sarees but she could not always afford to buy them. So, she would borrow them from others when there was any special event. Now of course she has a lot of them even though not all are expensive ones. During Covid when I moved back to Bannikuppe, I started to document this. I chose to take these photos around where she lives and the places she commonly visits", he said. He believes that we can all find such stories within our own homes or our neighbourhood and how we articulate or present it is the challenge. 
Cop Shiva's objective is that each photograph should convey a story of its own beyond just the visual impact.  He wants people to become curious and wonder who the person in the photograph is, what the photo is about, and where it was taken.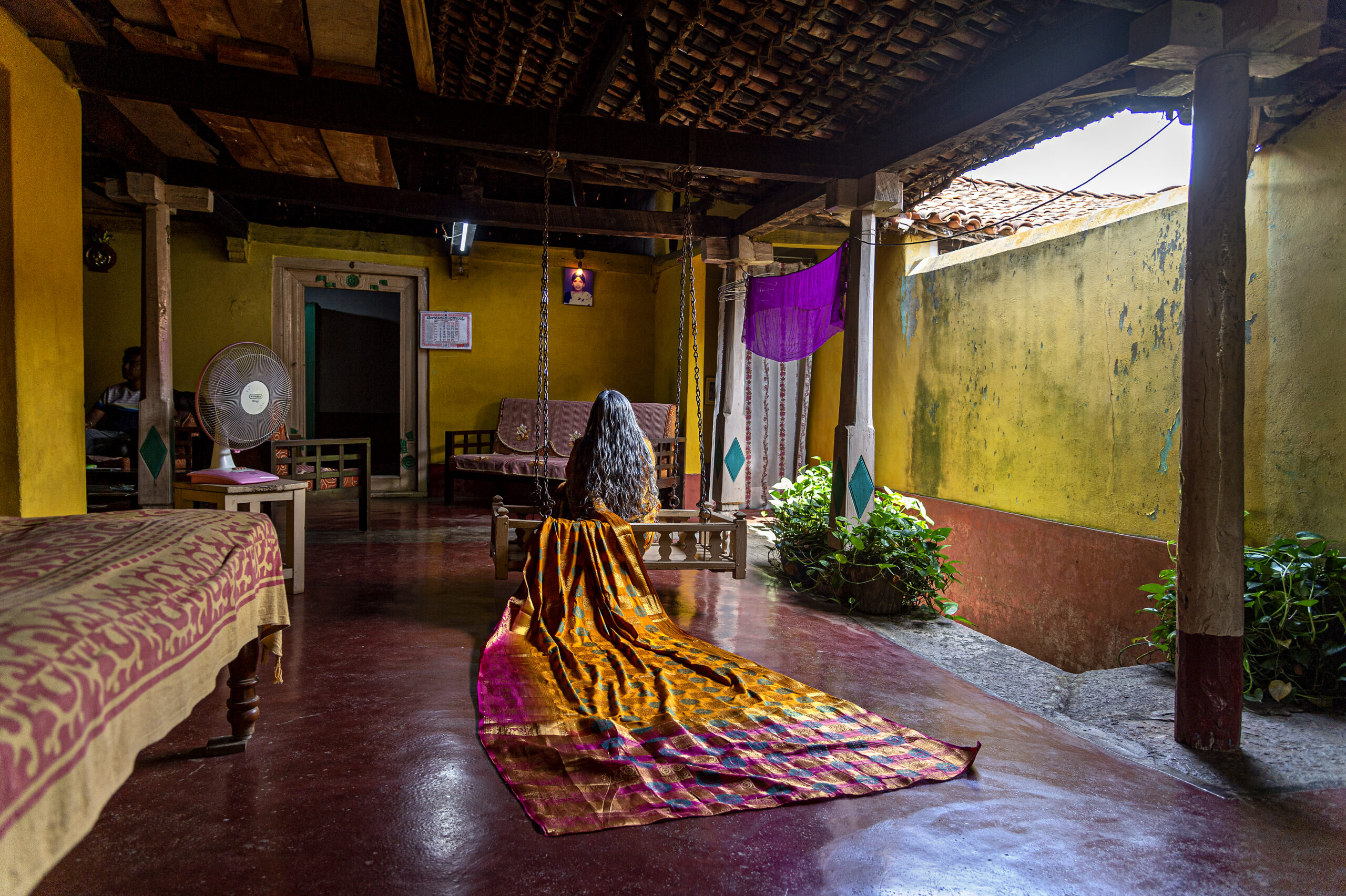 My mother and her technicolour sarees
When you look at his arresting images, it is natural to wonder if uses the latest, state-of-the-art camera equipment. But Cop Shiva said he uses a Nikon D80 camera (first released in 2006) with no other filters or additional accessories and just basic image correction after taking photographs. He firmly believes that a good image is in the photographer's mind and not just because of the camera.
He is always on the lookout for good photographs and feels that there is so much colour and diversity in India. He said, "People look and dress differently and every road, every home looks different. I don't use all of my photos in exhibitions but the process of taking photographs gives me immense joy and happiness.".
In 2018, while on a Pro Helvetia (Swiss Art Council) residency program in Zurich, Switzerland, he came up with the idea for a photo exhibition with a live performance. This "sangam" (confluence) brings together his choice of photography and his grandfather's dream of acting. He explained that the idea came to him as Switzerland is synonymous with Swiss banks and money. He played the role of a blindfolded Kubera (god of wealth) in Blind Gold, based on Kurudu Kanchana poem written by noted Kannada poet Da Ra Bendre in 1933.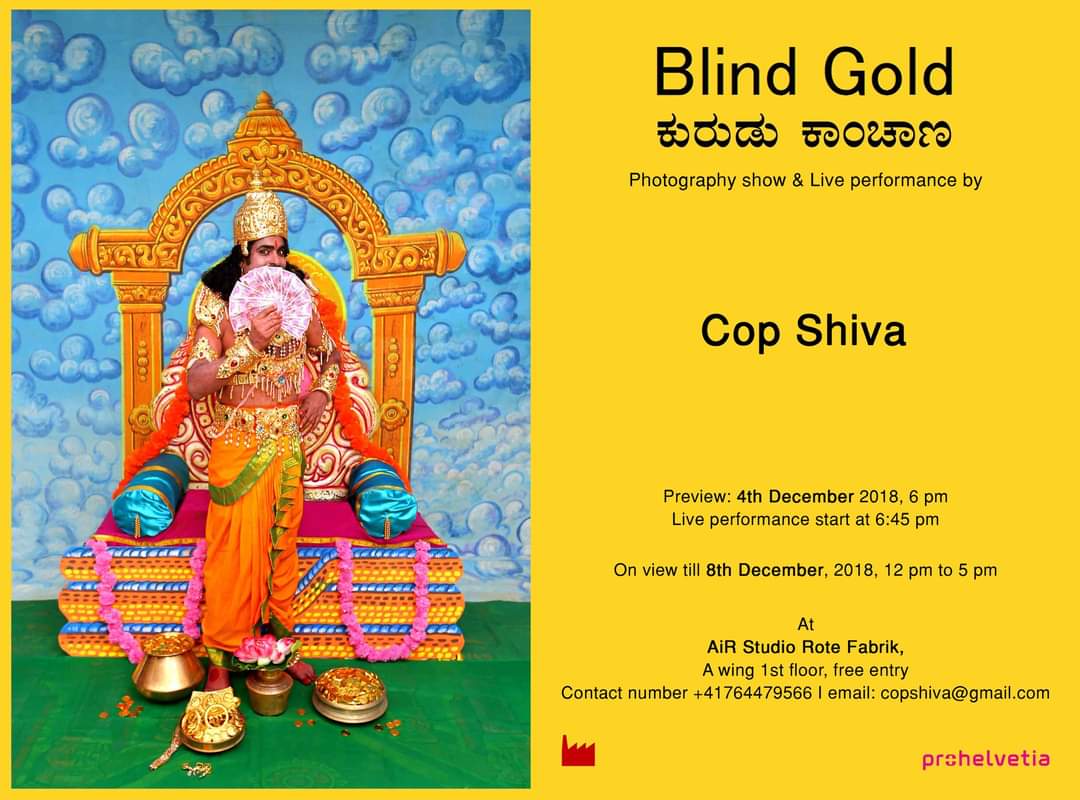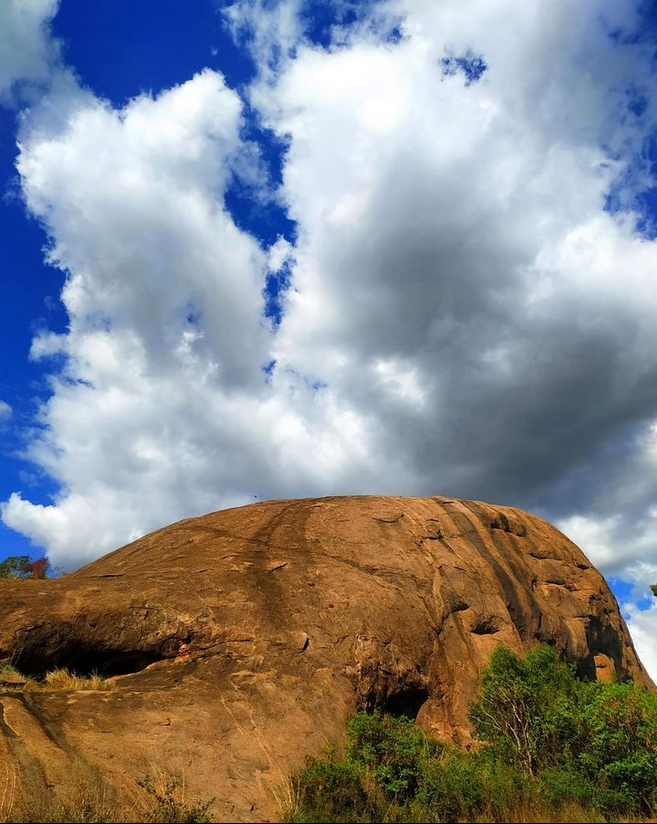 Dreamy Clouds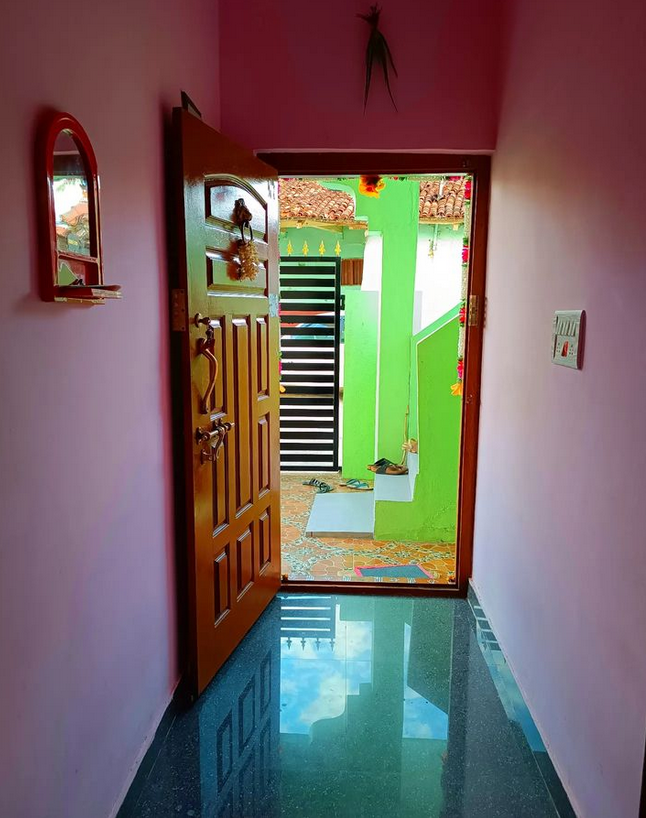 The light guides you home
During the pandemic, Cop Shiva continued to be active and did shows in Germany and Australia, and took part in the Finland Photo Festival in Helsinki. 
Cop Shiva has innumerable ideas for new projects and is eager to work on them. Many are autobiographical as he wants to tell more stories of himself, his childhood and his family. 
He has been selected as one of India's top 10 iconic photographers for the upcoming India Art Fair to be held in February 2023. He shares this honour with Raghu Rai, Dayanita Singh, Pushpamala N and others. What is endearing is his down-to-earth demeanour and warmth as a person even as he has grown to great heights as an artist.