Inspired Cityscapes
The Artist Who Followed Her Heart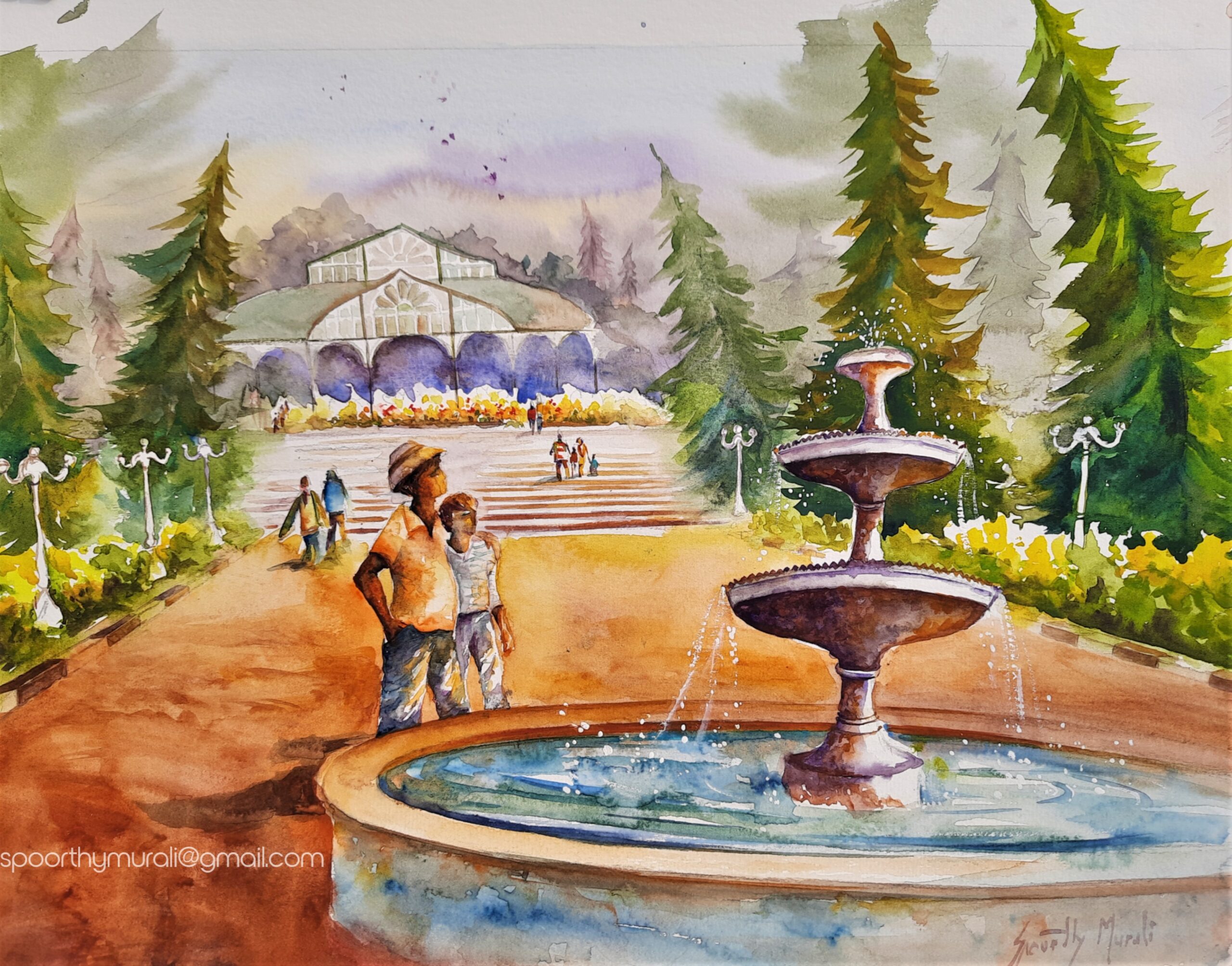 We are all creatures of habit and comforts. Most of us abhor change as it brings unpredictability and disrupts our rhythm. Life is all about settling down in a stable job. Paychecks become a part of life and we just cannot imagine the emotional shift from living on regularly deposited income. And, when the going is good we want more of the good. This is particularly true of new age careers in information technology where money, prestige, travel and other perks combine to make us hamsters stuck in a wheel. 
Very few have the courage (and perhaps the skills) to seek alternate paths, that too from a career in technology to being a full-time artist.  Spoorthy Murali is one of few who decided to take the leap. In 2012, she gave up a promising career built on top of a master's degree in engineering. Spoorthy (which means Inspiration in multiple Indian languages including Kannada) had no formal training in arts but made up for that through passion and determination. 
Spoorthy's work spans illustrations for authors, pencil sketches, watercolour paintings and wall art for businesses. Amongst these, she is most prolific in watercolour paintings that cover urban landscapes, heritage buildings, historic landmarks and automobiles. 
She has captured Bengaluru in her own impressionistic style with artwork that is vibrant and spontaneous. Impressionism is an artistic style developed by Claude Monet, that captures the feeling and emotions of an artist rather than accurate and realistic depiction of a scene. This style developed in France during the nineteenth century is generally used for outdoor paintings typically done on the spot. It is obviously focused on landscapes and other scenes of everyday life. 
What is notable in her work on Bengaluru is that the scenes are very minimal but bursting with colour even in its simplicity. The colours are smooth, spontaneous and bring a sense of joy to the viewer. Whether it is a historic landmark such as Lalbagh Glass House or an unremarkable scene of autorickshaws, the colours are transparent and glow brightly. The brushstrokes speak for themselves as painter Toby Haynes once remarked "You don't set down a watercolour wash – you release it: the paint has a say in the result". 
Most of us have seen the Bengaluru landmarks that she has painted or sketched, but she makes all of them look like they were freshly dusted and washed by Mother Nature. It is perhaps a reflection of the longing in all of us for the Bengaluru we truly wish to see.
featuredartbyspoorthy
Click on each image above for a larger view
Artwork © Spoorthy Murali
Interest in art

As a child, I started with art and craft much like everyone else. I did lots of drawings and portraits. My mother is a doctor by profession but used to sketch in her free time. Others in my family are into sculpture, cartoons and literature. So, creativity runs in the family. I have always been a keen observer. Color combinations, light and shadow contrast, gestures fascinate me. Even though I studied engineering, I continued to pursue art as a hobby and here I am today, as a full time artist.

Taking a new path

I worked in the information technology industry for about 8 years. I went abroad on assignments, got promoted even when my employer was not doing well. So, on the outside everything was rosy, but somewhere inside I had the nagging feeling of discontent. Today, being an artist I get to enjoy life to the fullest, interact with a variety of people which my cubicle job would not have allowed. It would have been a very predictable journey. This is also the best time to be an artist because people are keen on art and many are coming to me with art assignments. Giving up my career for art was like taking a leap of faith but I am happy that I did it.

Artists I admire

I try not to follow other artists and would love to have my own artistic style. But I am impressed by watercolor painters both in India and abroad. Some of my favourites are Ilya Ibryaev (Russian artist living in Moscow), Thomas W. Schaller (artist based in Los Angeles), Milind Mulick (artist from Pune) and Ramesh Jhawar (artist from Erode).

Style and Technique

I like the idea of impressionism and it suits the watercolor medium very well. I like the big brush technique of doing everything with one big wash and I also mix it with some craftsmanship – little detailing which I feel is a very effective and a beautiful combination

At first, I started by going to the locations, spending half a day, making multiple sketches at the location itself. Sometimes I would paint at the location and sometimes I would come back to my studio and paint it. In addition I also take photographs and if I am rushed for time, I can come back to the studio and compose the painting.

What inspires me to create

As I continued to mature as an artist what I realized is that the painting as such happens very quickly, but selecting an idea (what to paint) takes me some time. Sometimes I am in the mood for a certain series or subject. Once I like an idea, then I am excited as in the case of the series on Bengaluru. I continued working on several of them as if I was possessed about it. But until I zero in on an idea, I spend a lot of time thinking about it. Execution per se is very fast in watercolor. I can easily sketch and finish a painting in one or two days. 

Composition

If my paintings have focal points such as a bicycle, a home or a monument, it is not a conscious decision to make them one. I try to visualize a complete scene in my mind. For example, the scene where two women were sitting on a tree stump and talking. The moment I saw that I liked it and wanted to share it with all my friends. I came home, painted it and sent it to all my friends as a symbolic gesture. Then I composed the picture in the studio. I also added an autorickshaw to add more context and color to the scene. This also helps bring out certain characteristics of the city. 

The advantage in our country is that we are never truly alone and there is a lot going on around you. Even routine activities can be an interesting subject for art. I had once painted a little child on a big bicycle and titled it "Ambition". So, we can convey a lot of things in paintings.

Watercolour as a medium

Watercolour is my favorite. I am driven by my heart and go by my instincts. Sometimes I prefer a pencil or charcoal when I have something nagging me.

When I am in a carefree mood, I prefer watercolors. One big splash brings joy and happiness. Watercolour is applying water and releasing colors onto the canvas. Water takes care of a lot of the work for you.

So, the choice of medium depends on my mood. Acrylic is a more deliberate medium and needs lots of strokes of the brush. I use it for commissioned artwork when someone wants me to paint something specific for them. I don't mind doing that but it is not my personal favorite choice.

'Timeless' Art

As an artist we live in a timeless world in a way unlike a desk job. For us, time is not a constraint and we don't have deliverables with deadlines. If I am in the mood for an artwork, I sit up day and night to complete it. My work is more driven by emotions than by time. I do small sized charcoal sketches so it does not take a lot of time. Even for charcoal, it does not have to be done by pencil alone but one can use stubs or stumps (a cylindrical drawing tool, usually made of soft paper that is used by artists to smudge or blend marks)  to cover more canvas in a shorter time.

Why Bengaluru as a subject

I was born and brought up in Bengaluru but I have my roots in Mangaluru. There are some pockets of the city which are very beautiful. For example, my favourite is Frazer Town, a beautiful amalgamation of Hindu, Muslim and Christian architectures that co-exist together.

We also have many heritage buildings. Amongst many modern buildings, suddenly you will see a building with columns and colonial influenced architecture such as Central College or the National Gallery of Modern Art (NGMA). There is a lot of difference between modern Bengaluru and traditional parts of the city. This old architecture co-existing with the new styles makes a wonderful contrast for an artist. My subjects are mostly in old areas like Malleshwaram and Shivaji Nagar. I love patterns in architecture whether it is in mosques, domes on churches or in temples. 

Future Work

I really don't plan ahead. Sometimes galleries ask me to make more of a certain series but I am incapable of making more just to add to the series. I may have moved from those types of artwork or my mind may be on something else. It is like writing poetry. You have all these words in your mind and you start putting it on paper to compose it. Words just flow naturally once you have set your mind on it. Painting is just like that.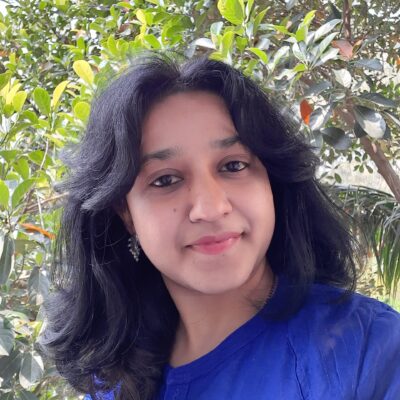 Spoorthy Murali
Spoorthy Murali has worked with Watercolours, Acrylic and Charcoal media. The translucency and fluidity of Watercolours have always allured her and got her to experiment on different subjects in this medium. Her plein air (means out of doors and refers to the practice of painting entire finished pictures out of doors) paintings of Bengaluru, rustic Hampi series paintings, rusty Vintage Automobile series, paintings of busy Bengaluru's lost Sparrows, paintings of languid elephants of the wild, paintings of forests and vibrant people portrayal have been very well received at various forums in India and across 12 countries overseas.
Spoorthy has participated in several group and solo art shows. Her artworks have been sought by celebrities and businesses. She is recipient of numerous awards including the recent MSME Women Entrepreneur Award (2020).