In 2016, Treepedia was launched by Senseable Cities Laboratory, a research group in MIT's Department of Urban Studies and Planning, in collaboration with the World Economic Forum. The objective was to raise a proactive awareness of urban vegetation improvement, using computer vision techniques based on Google Street View images.
In their introduction, the importance of green cover to a city is explained as follows –
"Increasing a city's tree canopy contributes to lowering urban temperatures by blocking shortwave radiation and increasing water evaporation. Creating more comfortable microclimates, trees also mitigate air pollution caused by everyday urban activities. Their absorptive root systems also help avoid floods during severe rains and storm surges. So overall, trees are pretty awesome. Cities around the world are recognizing this and many are developing strategies to increase green canopy cover."
A number of cities around the world have been rated using the Green View Index—which evaluates and compares canopy cover. An important point to note is that the focus of GVI is on street trees and not on parks. An initial list of 27 global cities have been mapped with more to be added.  Tampa in Florida has a GVI of 36.1%, Singapore has 29.3% and at the other end of the spectrum Paris is 8.8%.
Ironically, in a city with the sobriquet of 'Garden City of India', we see destruction of the very verdure that earned its fame.
In 2018, a study titled "Green to gray: Silicon Valley of India" was published by researchers from Indian Institute of Technology, Kharagpur and Indian Institute of Science.  The study concluded that "Analyses of multi resolution remote sensing data reveals that built-up has increased from 7.97% (in 1973) to 58.33% (2012) in Bangalore. The dense vegetation cover of 68.27% (in 1973) has declined to less than 25% (in 2012)."
While we are yet to compute the GVI of Bengaluru, the change is visible and the impact evident at all levels. The Parisian government is making an effort to boost greenery by planting 20,000 new trees in the city by 2020. On the other hand, Bengaluru Development Authority has not planted a single sapling for 2017-18 and in 2018-19. The last update on the BBMP Forest Planting Progress report is for the year 2016-17. In addition, thousands of trees have been affected by mobility projects and this includes Mango, Neem, Gulmohar, Ashok, Jamun, Peepal and Honge trees.  Ashoka and Mango trees are two varieties that are known to effectively remove dust from air. We see many reports of hundreds of trees planted for every one that was affected, but BBMP has admitted that they do not have any details of where these were planted and how many actually survived.
On an average, Bengaluru has one tree for every 7 persons when 32 to 55 trees per person in a region is required to exclusively mitigate respiratory CO2 (World Health Organization). The increase in social and health related issues due to environmental degradation is well documented.
The presence of green areas, parks, and trees improve the quality of healthy living. It provides air quality though absorption of polluting gases and particles which are responsible for respiratory infections. But, the most perhaps the most benefits of green areas in a community are the social and psychological benefits. Eventually, all the above contribute to better quality of life and long term sustenance.
Trees absorb heat and noise to improve the quality of life. The size and extent of the canopy play an important role in this role. When we look at many of the trees that were planted many decades ago, we can clearly see that the roads that are covered by trees on both sides are the coolest and also air feels fresher. Some well-known examples are the stretch of RV Road from South End Circle, Kasturba Road from Kempegowda Tower past Kanteerava Stadium, Margosa and Sampige Roads in Malleshwaram. The last named examples signify the importance of trees as both are named after types of trees that were grown extensively in these and other localities. Roads that were planned and laid in the past had substantial space for pedestrians and trees to co-exist. There was adequate space for trees to spread roots.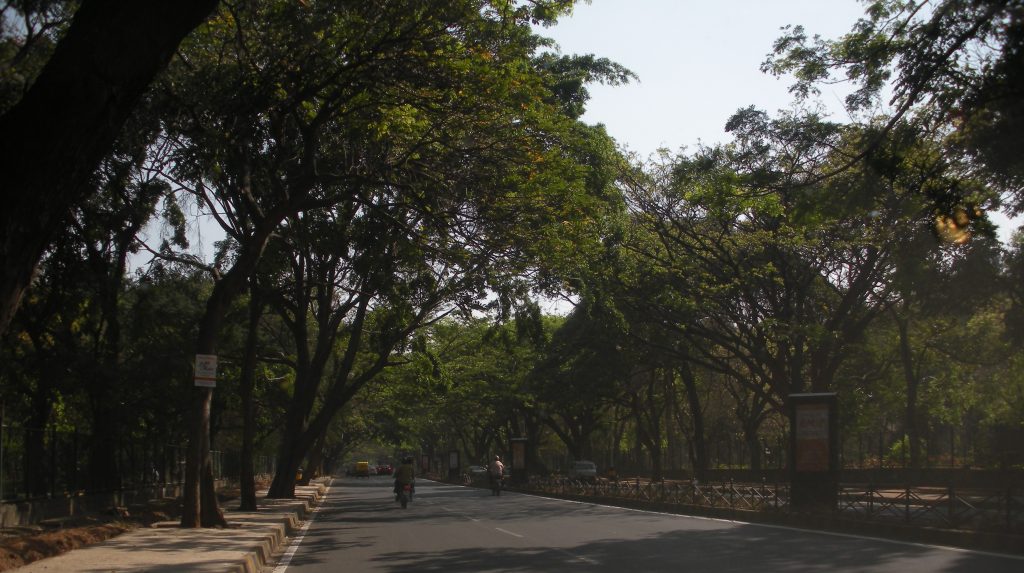 With the rampant urbanization comes increasing vehicle traffic and the pressure to widen roads. This has resulted in double impact to tree cover. The main sources of pollution in the city are the exponential growth in the number of vehicles, contributing to almost 50% of the pollution. When roads are widened due to myopic public policy, the first victims are trees. Due to increase in pollution and pruning or complete cutting of trees, public health has deteriorated. Particle Air Pollution has increased beyond safe limits taking a big toll on health of the residents – notably due to respiratory infections.
As construction spreads its tentacles farther and wider expanding the boundaries of the city like the universe, one wonders if it shares the same prediction of imploding one day.  As an example, take a look at the erosion of green cover in these two images of the same Bellandur-Agara area taken about 15 years apart.
The image from 2005 shows the lush green fields and cluster of trees in the Bellandur-Koramangala area with the Agara Lake in the background. The change in the landscape and the destruction is clearly evident in the image  from Google Earth taken recently. At the rate of current erosion, there would probably be no green cover left in a few years hence.
What is ironical is that most of the expansion of the city has happened as a result of absorption of  erstwhile villages surrounding the city. Typically villages have an abundance of trees and greenery but narrow roads. Trees in villages are in the agricultural fields or in surrounding groves. When villages are swallowed, the first casualty are the trees cleared for urban dwellings.
Farmlands are razed to build concrete and glass structures. Roads remain narrow as land is gold and who cares about connectivity anyway. Since these take years before they are formally incorporated into city administration, the damage would have been done long before anyone thinks of any urban planning. What trees remain serve mainly as posts for cables and advertisements for PG accommodations.
If one visits any extensions of the city formed by annexation of villages, the landscape is identical- narrow roads with no space for pedestrians, buildings clustered with no space to breathe and very few trees in sight.
There will be no solution to this imbroglio without a radical change in urban planning and development. Unfortunately, we may be too late – the stable door is open and horse has bolted.
Legend has it that precious gems, diamonds were sold in the streets of Krishna Devaraya's  Vijayanagara empire. We read about this in awe and imagine the street scene in our minds. Come a hundred years from now, future generations may read the same about Bengaluru and how it was resplendent with trees, parks and abundant greenery. It may be all left to their imagination if we dont change it now.
Sources:
Aithal, Dr. Bharath & Shivamurthy, Vinay & M C, Chandan & Gouri, B.A. & Ramachandra, T V. (2018). Green to gray: Silicon Valley of India. Journal of Environmental Management. 206. 10.1016/j.jenvman.2017.06.072.
Chinnaswamy, Anitha & Galvez, Maria Cecilia & Balisane, Hewa & T. Nguyen, Quynh & Naguib, Raouf & Trodd, Nigel & Marshall, Ian & Yaacob, Norlaily & Santos, Gil Nonato & Vallar, Edgar & Shaker, M.H. & Wickramasinghe, Nilmini & Nghia Ton, Tuan. (2016). Air Pollution in Bangalore, India: An Eight-Year Trend Analysis. International Journal of Environmental Technology and Management. 19. 10.1504/IJETM.2016.10003102.
Elgizawy, Ebtesam. (2014). The Significance of Urban Green Areas for the Sustainable Community.
Featured Posts