M S Sathyu
The Master of Arts
M S Sathyu
The Master of Arts
On a quiet lane opposite the 60-acre verdant golf course in the heart of Bengaluru, Mysore Shrinivas Sathyu welcomed us into his home. He recently turned 93, but age is just a number in his case. Sathyu has donned multiple hats in his career that has spanned films, theatre and television. He was happy to share his thoughts on various topics and recalled events that happened six or seven decades ago with amazing clarity and detail. Read on for a journey through time and into the mind of the man who mastered the arts.
In search of a career
I was keen on going to either J.J. School of Art or Shantiniketan to learn designing and painting but my father was not very happy with the idea. I convinced him to give me six months time to start a career and went to Bombay (as Mumbai was known at the time). But, I could not get a job for about four years. Then I worked as an apprentice and learnt Cel animation where each frame is drawn and painted by hand. This was the technique made popular by Walt Disney films. When I asked them for a salary, I was offered only ₹40 which made me unhappy and hence I quit.
Around this time, I met Habib Tanvir and we stayed in a house near the famous Opera House in the Churchgate area. In 1953, Habib and I decided to move to Delhi as we felt that Bombay was obsessed with only films and there were few opportunities for theatre. 
In Delhi, we started working for Elisabeth Gauba, a German who had a school on Hailey Road near Connaught Place. Since Habib and I did not have a place to stay, we stayed in the small classrooms of the school. In the night we used to put the desks together and sleep on them. Rajiv and Sanjay Gandhi were students at the school and Indira Gandhi used to come every evening in her Ambassador car. Once the children were sent home, she would stay back along with V K Krishna Menon. He was an avid tea drinker and I ended up making kettle after kettle for them. After that we would all walk on Curzon Road and Rajpath towards Trimurthi Bhavan. So, we had the nation's Defence Minister and future Prime Minister walking in the street with no security. Can you imagine this happening today?
Calling "Cut" on Chetan Anand
Back in Bombay after some years in Delhi, I designed a play based on Shakespeare's Othello which was directed by Zul Velani. Chetan Anand came to see it and someone told him about me. He sent word that he was interested in offering me a job. Zul asked me to meet him but I did not take it seriously. Some days later, Zul was very annoyed when he learnt about this. So, he took me to Churchgate Station, personally bought a ticket and put me on the train to meet Chetan Anand. It was quite early in the morning and Chetan offered me a cup of tea. He explained that he was making a Buddhist period film (Anjali, 1957) and wanted me to join him as an assistant director. I replied that I had no idea what an assistant did nor did I know Hindi. But Chetan insisted that the script was in English with only dialogues in Hindi. I was still not convinced but acceded to his request. Since Chetan was also acting in the movie, I ended up directing some of the shots. In one of the scenes, I did not like a particular shot and called "Cut". Chetan was taken aback and seemed upset but agreed for a retake. Perhaps he thought that since I came from the theater background, I had the expertise to judge a shot. In those days, we were all paid salaries and I was offered ₹250 per month. This was barely sufficient to survive in Bombay. Sensing my unhappiness, he asked me how much more I wanted. When I asked for ₹275, he agreed. I worked with him for a few more films including Haqeeqat. This is how my journey in films started.
"Achchi Film Hai"
The film was screened in Delhi and in the end Indira Gandhi simply said "Achchi film hai" (it is a good film) and walked out. I was unsure if that would help me. 
M S Sathyu, Image © P L Tandon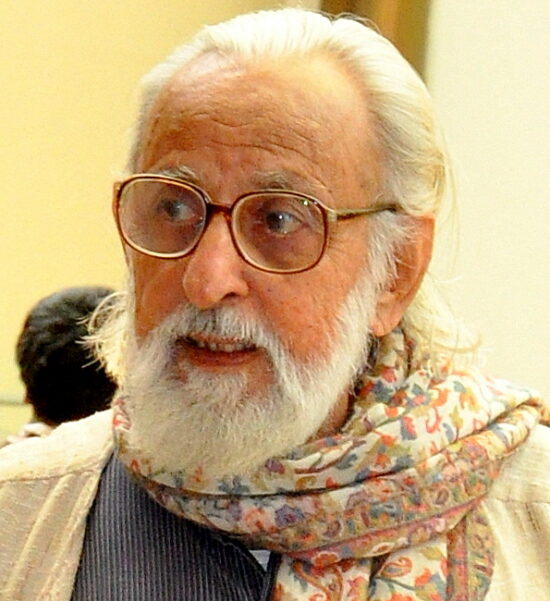 "Achchi Film Hai"
The film was screened in Delhi and in the end Indira Gandhi simply said "Achchi film hai" (it is a good film) and walked out. I was unsure if that would help me. 
M S Sathyu, Image © P L Tandon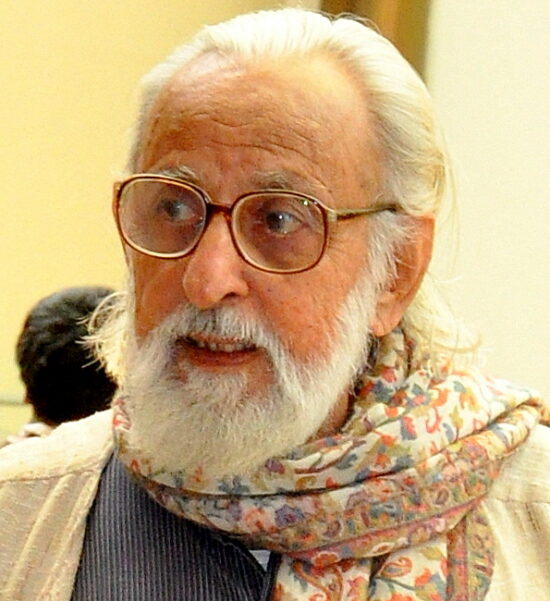 Garm Hawa was an accident
I had given a script to the Film Finance Corporation headed by B K Karanjia. He was reluctant to finance it as he felt it was very negative and defeatist. Noted writer Ismat Chugtai was close to my wife Shama and we approached her for an alternate story that could be made into a film. She narrated a story of a grandmother, an old lady who did not want to go to Pakistan during the partition as her husband was buried in Agra. Taking this idea, Shama developed the script that eventually became Garm Hawa. The shooting was completed but everyone who saw the rushes felt that it would not be cleared by the Censor Board. So, I was at a loss not knowing what to do. Then I decided to contact Prime Minister Indira Gandhi and Information and Broadcasting Minister I K Gujral and arrange a special screening for them. Within a couple of days, I got a call from Delhi asking me to bring the film but I had a problem on my hands. At that time, I did not have a completed print nor the money to make one instantly. However, Ramnord Labs (started by Ram Chattopadhyay, son of Kamaladevi Chattopadhyay) agreed to make a print for me.
The film was screened in Delhi and in the end Indira Gandhi simply said "Achchi film hai" (it is a good film) and walked out. I was unsure if that would help me. Then I K Gujral suggested showing it to other members of the Parliament. This was all fine but at the back of my mind I was thinking that everyone is seeing the film for free. Finally, after some time, it was cleared for a release which was a big relief. What was notable about Garam Hawa was that a lot of IPTA (Indian People's Theatre Association) members had acted in the film including Farooq Shaikh. Perhaps, the only major actor who did not come from a theatre background was Jalal Agha.
When Garm Hawa was stuck with the Censor Board, I had problems with distributors who had paid advances for it. Some wanted to take back their money and I had to take loans to repay them. I was invited to show the film in Paris where Louis Marcorelles, critic at Le Monde saw and recommended it to the Cannes Film Festival. Air India offered me three tickets and I took Jalal Agha, Gita Siddarth along with me. So, sixteen years after Satyajit Ray's Parash Pathar, an Indian film was in contention at Cannes. I remember sitting next to Francis Ford Coppola whose film The Conversation eventually won the Palme d'Or, the festival's highest prize. Upon my return to India, M Bhaktavatsala agreed to help me release the film and it was shown at Sagar cinema on Kempegowda Road. Even though partition did not have much impact on Bengaluru, people responded positively and liked the film. 
So, my very first film was perhaps the peak of my career. It has happened with many filmmakers. Satyajit Ray made many good films but his first film Pather Panchali is considered his best film ever. 
Working with Balraj Sahni
Balraj left his job with BBC in London and came to act in films. One of his first films was Hum Log directed by Zia Sarhadi where he gave a very stylised performance. 
There was a scene in my film Garm Hawa where Amina (Gita Siddarth), daughter of Salim (Balraj Sahni) commits suicide. It was eerily reminiscent of what happened in Balraj Sahni's real life. Even though he was a Communist Party member, he was in Madhya Pradesh on Indira Gandhi's request during some elections and suddenly his daughter Shabnam committed suicide in Bombay. I contacted the Chief Minister of Madhya Pradesh and asked for his help to fly Balraj Sahni back to Bombay. I drove to the airport in my car and received him. Balraj got into the car and he did not speak a word. I took him from Santa Cruz to his house in Juhu. He got down from the car, saw a lot of people who had gathered there. Without a word, he went up the flight of steps into the house and saw Shabnam lying there. We had got the post mortem done and her hair was still wet. Later, I asked him to reenact the same scene in Garm Hawa by coming up the steps. I wanted no tears but asked him to just look at Amina. Balraj was a very sensitive actor and he understood what I was asking. I am sure he was reminded by his own daughter's death. 
Sadly, Balraj Sahni did not live to see the release of Garm Hawa. On April 12th, 1973, he came to my house at Juhu in the morning. He had already completed the dubbing work for the movie but he wanted to change a particular line, one of the last dialogues in the film. I agreed to his request. He said he was shooting at V Shantharam's Rajkamal Studios and asked me to come at lunch time. Mangesh Desai, the sound recordist was already there and we finished the redubbing in about five minutes and Balraj was happy. Hard to believe but he died the next day.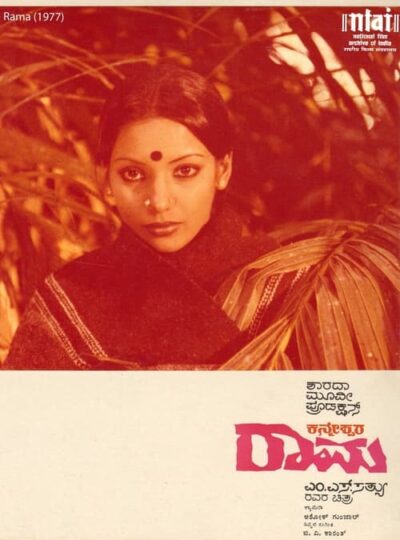 Kanneshwara Rama, the Robin Hood story
M Bhaktavatsala wanted me to make a "middle of the road" film that was neither too commercial nor art cinema. Thus Kanneshwara Rama, based on a Robin Hood type character was made. I had seen Anant Nag in Shyam Benegal's Ankur and approached him for the title role. Smita Patil was supposed to play Malli but she called me at the last minute and said he could not come as she had accepted another film. Shabana Azmi who somehow came to know about this, called me and said she was willing to step into the role. She paid for her own ticket and came to Bengaluru. I was staying at Woodlands Hotel where I booked another room for her. I told Bhaktavatsala that Shabana had agreed to work in the film but we were apprehensive about her fee. When I asked Shabana about this, she said "Kuch Bhi De Do" (pay me anything) and we ultimately settled for ₹60,000. Then we signed up Amol Palekar, B V Karanth and Tom Alter for other key roles.
The film was a big success and completed 100 days even though it was not a mainstream film. The film had no songs except for a ballad "Naraveera Kanneshwara Rama" sung by PB Srinivas. The song was used to connect the different episodes in the film. This song was originally sung by one Samad Sahab in Shikaripura who used to sing this ballad while giving Unani medicines at local fairs. BV Karanth used the same tune and composed the song in the film.
Filmmakers who inspired me
Some of the film makers I was inspired by were Vittorio De Sica, Luis Buñuel, and Charlie Chaplin. Amongst Indian filmmakers, I liked Bimal Roy and Mehboob Khan. Mehboob was illiterate but had a great touch for films.
Are you Yousuf?
I was not very keen on doing the Google ad film. The team was eager to sign me up even though I said I am not an actor and can suggest others who can do it better. The director Amit Sharma, who later made the successful  Badhaai Ho was insistent. He is a very sensitive director and I liked the story when they narrated it to me. 
Many years later I was wandering around Connaught Place in Delhi and some boys approached me. They looked at me for a few minutes and asked "Are you Yousuf?" They wanted to click a photograph with me and I agreed as long as it was not a selfie. After that I have refused a lot of similar offers. Someone even offered me a pan masala ad but I don't want to sell such things.
"Are you Yousuf?"
Many years later I was wandering around Connaught Place in Delhi and some boys approached me. They looked at me for a few minutes and asked "Are you Yousuf?"
M S Sathyu, Image © P L Tandon
"Are you Yousuf?"
Many years later I was wandering around Connaught Place in Delhi and some boys approached me. They looked at me for a few minutes and asked "Are you Yousuf?"
M S Sathyu, Image © P L Tandon
Passion for theatre
I was fortunate to be part of the IPTA movement. It was like a commune where we all stayed together in Bombay. There was a rich Gujarati gentleman who had a bungalow. He was not a party member but for some reason he gave it to IPTA. There was a huge tree in the compound and we built a stage around it. People used to come and sit around it to watch the plays. Everyone stayed in the same house and there was one kitchen where food was prepared. When Chetan Anand made his first film Neecha Nagar he used actors from IPTA and Prithvi Theatre for it.
Even today, I am passionately involved in theatre. I feel that Bengaluru is one of the best places for theatre. There are a lot of theatre groups and venues. Take Ranga Shankara for example. It has a show every day except for Mondays. Since it opened in 2004, about 18 years ago, there has been a play every day. Even today, it is difficult to book the theatre as there is a big demand. That itself is a big achievement and speaks for the wide support given by the people. Ranga Shankara has also kept its rates reasonable which makes it affordable for all groups. 
I am keenly interested in creating similar affordable spaces for theatre. I have been doing that for many years and the Victory Hall in Bal Bhavan was one such early project. Since then, I have been involved in similar projects around the city. I am working on some new theatre projects in JP Nagar and also at Gubbi in Tumkur district where I have created an open air theatre in a farm for B Jayashree, Gubbi Veeranna's grand-daughter. 
My new play is based on the famous Persian legend Gul-e-Bakavali. It is a fantasy love story between a man and an apsara (fairy) with a cast of about 25 actors.
I have been very comfortable working in films, theatre and television. The key is to understand the grammar of each of them  If you can do that, you can be successful in more than one medium.